Vehicle Exhaust Removal Systems
The Vacuum Holster. With its recently patented method of operation, the Vacuum Holster vehicle exhaust removal systemis a new technology from Diversified Air Systems. The Vacuum Holster uses the negative pressure of the exhaust fan to assist in hose retraction, providing easier operation than telescopic hose drops -- at a comparable cost. The Vacuum holster can be incorporated into a rail system, or it can be suspended from traditional ductwork.
Click to See Vehicle Exhaust Removal Installations
Auto/Truck Vehicle Exhaust Removal Systems for all your needs. Diversified Air Systems provides various kinds of vehicle exhaust removal systems: the retractable reel system (MAXREEL), single and dual hose systems with spring-loaded balancers for easy maneuverability (MAXDROP), sliding trolley (MAXRAIL), pivoting extensions (MAXBOOM & MAXREACH), hands free hoseless engine exhaust removal system for fire & EMS industry (MAXFLO-D30UV), and a portable exhaust removal system that is lightweight and easy to use. In addition, Diversified Air Systems supplies systems accessories, including tailpipe connectors and adaptors, and optional remote mounted blowers for central vehicle exhaust removal systems.
Call Today: 800-264-8958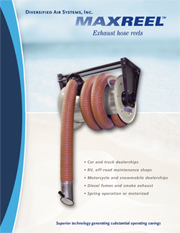 Typical Vehicle Exhaust Applications:
Diesel Exhaust Removal System
RV Exhaust Removal System
Motorcycle Exhaust Removal System
Snowmobile Exhaust Removal System
Garage Exhaust System
Auto Exhaust Removal System
Lawnmower Exhaust Removal System
Maintenance Garage Exhaust Removal Systems
Military Exhaust Removal System
Vehicle Exhaust System for Garage
Portable Vehicle Exhaust Removal System
Vehicle Exhaust Extraction for Shops
Exhaust Ventilation Systems