MAXFLO Tower Industrial Floor Mounted Air Cleaner
MAXFLO-Tower Industrial Air Cleaner is a cost effective industrial filtration unit for dust, fumes, odors etc. Our free standing modular air cleaner offers unlimited combinations of MERV rated panel filters, HEPA filters and absorption modules. The Tower has stackable filter modules which can be stacked up to three stories tall.  The Tower features 24" x 24" x 6" filter tracks on all four sides of each story module. This allow for maximum filter capacity with fully visible easy access filters. For example: our MAXFLO Tower III can hold up to 624 LBS of activated carbon for maximum odor control. The MAXFLO Tower has 3 motor options: ¾ hp (2000 CFM), 1.5 hp (3200 CFM) and 3 hp (6000 CFM). The Tower can be floor mounted with or without casters or ceiling mounted.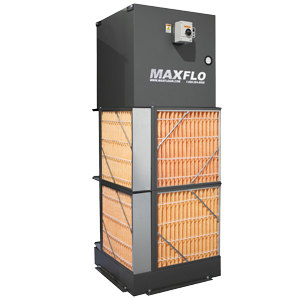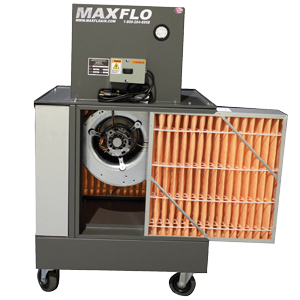 MAXFLO Tower Applications
Dust

Fumes

Odors

Smoke

Grinding Dust

Sanding Dust

Welding Smoke


Surface Finishing

Chemical or Powder Processing
Woodworking

Auto Body Shops

Paint Overspray

Print Shops

Warehousing

Training Labs

Vocational Schools


etc., etc., etc.